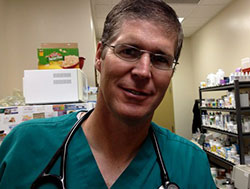 Dr. Farrer grew up in Springville where he developed his love for animals at an early age spending time on his grandfather's farm. After graduating from Colorado State University's College of Veterinary Medicine, he continued his education at Texas A&M University by completing an internship in Large Animal Medicine and Surgery.
Dr. Farrer began his career working at South Valley Large Animal clinic in South Jordan. With the encouragement and help of his wife, Tiffany, he opened Saratoga Springs Animal Hospital in 2005.
In his free time, Dr. Farrer enjoys spending time in Utah's beautiful outdoors with his wife, five boys, and his two dogs, an American Brittany and a Vizsla.